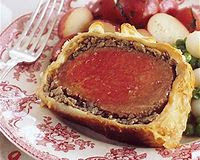 I've been meaning to post this recipe for a while now. Actually, I've been working on it for at least five years and making it for our Christmas meal since 2015.
It's mostly the recipe from the fabulous Jamie Oliver but it does have a few bits here and there from Holy Mother Julia Child, Lady Martha Stewart and my butcher, the fabulous Bryan Hickman at
Hickman's Meat Market
in Rehoboth Beach.
They are all fabulous butchers there but special kudos to them this year for walking into my annual "Christmas Meltdown" which, if any chef is honest, is bound to happen at least once during "the most wonderful time of the year." (I'll be sweeping flour dust from corners in my kitchen until Easter.)
Bryan was so gentle and kind, so understanding and patient with me on the phone that it almost made me weep. He not only offered to come to my home and fix my perceived problem, but even offered to deliver a larger cut of beef prepared the way I thought it needed to be.
In the "Customer Service Hall of Fame" there's a picture of Bryan with stars all 'round his face.
He also has a great sense of humor. Do you know the difference between a meat cutter and a butcher? About $10 per hour. (Old family joke, he says.)
I'll tell you what: The church could learn a little something from this fine man and his wonderful family. I've already told him he just might appear in one of my sermons one of these days.
Anyway, I think I've worked out all the "kinks" in the recipe and I'm now confident enough to share it with you. If you have any questions or concerns, just leave a question in the comments and I'll get back to you as soon as I can. Or, message me on FaceBook. Or, if you know me, just call me on my cell. If you have my cell phone number, you know that I love to talk recipes and cooking. At any rate, it's probably been too long since we've had a proper conversation. Call me. We'll talk.
One word before we begin:
If you like beef well done, stop right here. This recipe is NOT for you.
Oh, you may find that the end pieces are "more done" than the main body of the meat, but this meal is meant to be eaten red to reddish-pink, but not anything less than a healthy pink.
Because, seriously, why bother? Have a piece of fish or chicken. We'll all feel better.
PS: A lovely man named Jack Thompson has sent me an article: Eight Primal Cuts of Beef which he's written. He's all about BBQ, which I'm not, but I found it very helpful. I hope you do, too.
BEEF WELLINGTON
(adapted from Jamie Oliver, Julia Child, Martha Stewart and my butcher)
INGREDIENTS
1 kg (roughly 2.5 to 3 pound) beef tenderloin, trimmed of excess fat.
EVOO (Extra virgin olive oil)
2 large knobs (approximately 2-3 tablespoons) of butter
3 sprigs of fresh rosemary
1 red onion
several (okay, many) cloves of garlic
600 g (roughly 1 pound) white mushrooms, stems removed, finely chopped
100 g (roughly 3.5 ounces) chicken livers (cleaned)
¼ cup Madeira wine (alternative: dry sherry)
50 g (1.5 oz) bread crumbs
1 x 500 g (approximately 1.1 pound) block puff pastry
All purpose flour for dusting
One egg, lightly beaten
Coarse salt to taste (start with 2 teaspoons)
Freshly ground pepper to taste (start with ½ tablespoon)
Optional gravy:
2 onions
4 springs fresh thyme
1 heaped teaspoon blackcurrant jam
100 ml (3.5 oz, approximately) Madeira wine
1 heaped teaspoon dry English mustard
2 heaped teaspoons plain flour, plus extra for dusting
600 ml beef stock
DIRECTIONS:
Your butcher will have tied the tenderloin with kitchen twine in 1-inch increments to form an even piece, so it will hold its shape during cooking.
As I learned this Christmas 2018, some cuts of beef tenderloin do not have to be tied. It all depends on the size of the cut and the butcher.
DO NOT SKIMP ON THE QUALITY OF THE BEEF. Start with the freshest cut you can get and make sure it is well-trimmed.
Yes, you will pay for what has been trimmed. My butcher happily grinds the trim for me to take home and use in other recipes, or just to treat ourselves to a ground tenderloin burger. (Oh, my!)
Note: It is not absolutely necessary but I have found it best to start the process late in the afternoon or early evening the day before you are planning to have this meal. I think searing the beef and letting it rest then keeping in in the fridge the night before all helps with the flavor and texture of the beef. If not, try to leave at least several hours for the beef to "mature" in the fridge.
BEGIN BY SEARING THE BEEF TENDERLOIN: Preheat a large frying pan on a high heat.
Rub the beef all over with sea salt and black pepper.
Pour a good lug of oil into the pan then add the beef, 1 knob of butter and 1 sprig of rosemary.
Sear the beef for 4 minutes total, turning regularly with tongs on all sides, even the end.
Remove to a cutting board with a drainage-well. Let rest until cool.
Cut and remove the kitchen twine.
Chill tenderloin until ready to assemble and beef is cold, at least an hour (or more) or overnight.
TO MAKE THE PATE
: Wipe out the pan slightly and return to medium heat.
Peel the onion and garlic, then very finely chop with the mushrooms and put into the pan with the remaining knob of butter and another lug of oil.
Strip the rest of the rosemary leaves and cook for 15 minutes, or until soft and starting to caramelize, stirring regularly.
Toss the livers and Madeira wine into the pan and cook for another few minutes.
Tip the contents onto a large board.
Finely chop it all by hand with a big knife, to a rustic spreadable consistency of pate.
Taste and season to perfection, then stir in the breadcrumbs – just enough to make it easy to handle.
Note: The pate can be made a day or two before you start the process. You may find that you will have more than enough pate to serve as part of your appetizer presentation. It's lovely served with toasted french bread rounds, but even Ritz Crackers work well.
ASSEMBLING THE WELLINGTON: Preheat oven to 210 C/425 F/gas 7.
On a flour-dusted surface, roll out the pastry to 30 cm x 40 cm (or ¼ inch thick rectangle big enough to enclose the beef).
If using store bought pastry, it may be necessary to lay out 2 pieces, overlapping, and roll them out into one piece.
Note: Or, depending on the cut and size of beef, you may use two sheets, one on the bottom and one covering the top, rolled up all along the sides. Just remember to brush the edges with a beaten egg to seal
In the middle of the pastry, spread a layer of the pate out on the pastry in approximately the size of the beef.
Carefully place the beef on top of the chopped liver then cover the beef with the rest of the chopped liver.
Fold up the long sides of the dough to enclose the beef, brushing edges with beaten egg to seal.
Trim ends if necessary, then fold up and seal.
Transfer to a parchment lined baking sheet and chill at least 2 hours or overnight.
Roll out any extra dough, cut into holly or pine trees or other shapes if desired and chill on baking sheet with the beef.
COOKING THE BEEF WELLINGTON When you're ready to cook, heat the baking sheet (without the parchment paper) on the hob (oven) for a couple of minutes (15 will do it) to start crisping up the base.
If you are using dough decorations, put them on the top of the Wellington now.
Make 2-3 slits in the pastry for venting steam. If desired, sprinkle with sea or coarse salt.
Carefully transfer the Wellington to the preheated baking sheet which has been lined with parchment paper. (Note: Depending on the size and the cut, you may have been able to simply remove the Wellington on the parchment paper from the baking sheet it had been resting on in the fridge.)
Place baking sheet with parchment paper and Wellington to the middle rack of the oven.
Bake until pastry is golden brown and beef registers 120 -135 degrees for medium rare, 35-50 minutes.
Cover pastry with foil if it gets too brown while cooking.
The two ends portions will be more cooked, but usually some people prefer that. Let rest on a cutting board 10 minutes before slicing.
You may choose to add a spring of rosemary
OPTIONAL (thoroughly decadent and completely unnecessary) GRAVY:
Peel and roughly chop the onions and put into a large pan on a medium heat with a lug of oil and thyme leaves.
Cook for 20 minutes, stirring occasionally, then stir in the jam and simmer until shiny and quite dark.
Add the Madeira, flame with a match, cook away, then stir in the mustard and flour, gradually followed by the stock.
Simmer to the consistency you like, then blend with a stick blender and pass through a sieve, or leave chunky, if you prefer.
May be poured on individual slices of the Wellington, if desired.
Elizabeth Kaeton
Christmas 2015